Your search
Change
The Grand Mayan Nuevo Vallarta, 05 Feb 2020 - 09 Feb 2020, 2 adults
Pricing
No rooms available with your search criteria
or call 1-888-737-9266
Rates above are price per room. Additional fees & taxes may apply. All rates are in USD. For multiple rooms contact an agent.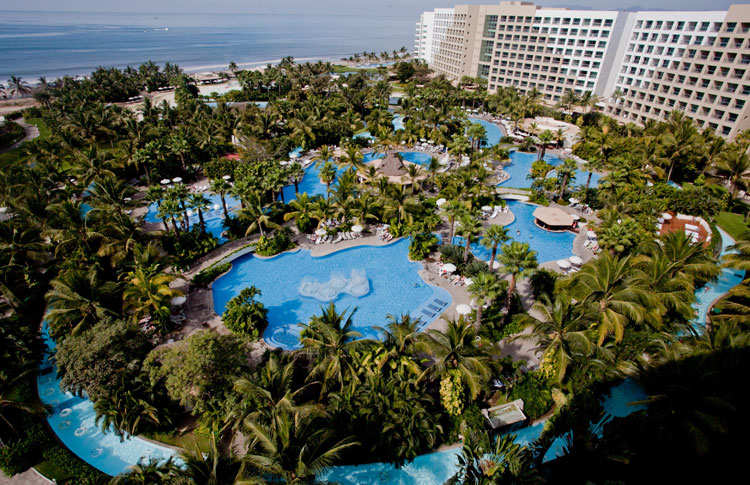 From its magical entryway to its fun-filled Lazy River, The Grand Mayan Nuevo Vallarta is the perfect setting for you and your family to enjoy your time away from it all. With ample space to stretch out, relax, and reconnect, The Grand Mayan accommodations give guests a charming and comfortable place to spend their days in paradise. From the Aqua Park boasting a wave pool and the Mayan Pyramid slide to access to other pristine pools, The Grand Mayan offers plenty of pools and water features to explore.

-----------------------------------------
THIS PRODUCT IS SOLD AS ROOM ONLY.  PLEASE NOTE THAT THIS RESORT DOES NOT OFFER AN ALL-INCLUSIVE PROGRAM.

Vidanta – Terms and Conditions
All meals, drinks, resort fees and daily room taxes, gratuities and incidentals are at an extra charge.
The rates advertised include resort accommodations in the category booked and Round trip complimentary transfers.

Arrival transfers are provided directly by Vidanta Shuttle Service.
Departure transfers provided by Amstar Transfers.

Flight information must be provided no later than 7 days prior to travel.

CHECK IN AT THE RESORT
THE FOLLOWING IS REQUIRED AT CHECK-IN:

$500.00 refundable security deposit.
$75.00 resort fee  - This covers Wireless or high-speed internet, local telephone calls, daily newspaper (on request), on resort transportation, The Santuatio entertainment cover charge and daily gym access. This is a mandatory fee. 
$5.00 daily - room taxes. 4 nights stays - $20. 5 – 7 night stays – up to $35
Passports for all guests required at check in – this includes all children.
Cancellations 

A full in house refund will be applicable on all bookings outside of 50 days.
Bookings cancelled within 50 days will receive an in-house future credit, less a $200 cancellation fee.
It is highly recommended that you purchase travel insurance

Occupancy
All of the Vidanta resorts have the following room occupancy

Studio – 2 adults, 2 children under 12
One bedroom suites – 4 adults and 2 children under 12.
Rates
Rates are good for travel thru Dec 2019 and confirmed upon availability.

Please note - All guests will be approached to consider a presentation for fractional ownership of the resort property. Please be aware that participation is completely at your own discretion and you are under no obligation to attend.