Your search
Change
Sandos Finisterra Los Cabos Resort, 31 Jan 2020 - 04 Feb 2020, 2 adults
Pricing
No rooms available with your search criteria
or call 1-888-737-9266
Rates above are price per room. Additional fees & taxes may apply. All rates are in USD. For multiple rooms contact an agent.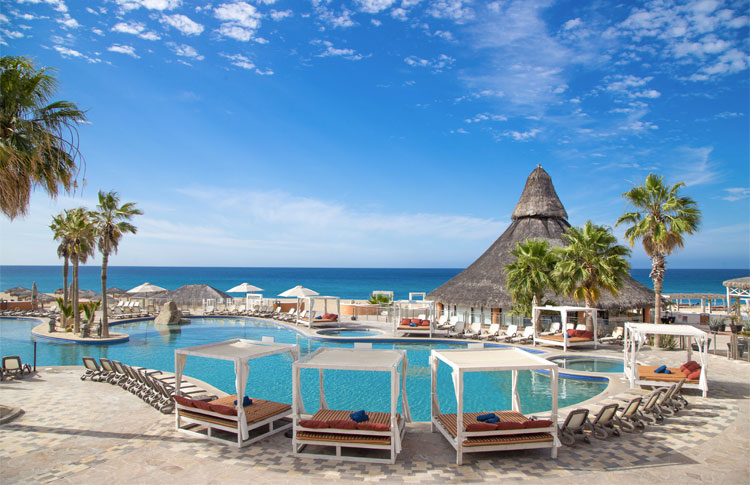 Experience the renovated Sandos Finisterra Los Cabos with its impressive architecture. You'll discover views of Cabo San Lucas Bay when staying in our Bay View rooms and the Pacific Ocean from the Ocean View rooms with spectacular sunsets. A quick walk takes you straight to the heart of Cabo with its restaurants, nightlife, fishing and water sports.
Have fun in the Los Cabos sun in any of three spectactular pools, order a snack from the traditional Agave restaurant or indulge in a bagel by the ocean at Tortuga Beach. In the evenings, you can sip on a margarita with the best views of the Pacific at Stones Club, then stop at Plaza Finesterra for fun shows and activities every night. Tennis players will love the courts and equipment available at no extra cost.
Deluxe Bay View Section
Surround yourself with comfortable modern amenities and incredible views of Cabo San Lucas Bay from your balcony. You can experience the heart of Cabo with a wide variety of options like dolphin shows, luxury yachts, restaurants, shops, cruises and jaw-dropping sunsets.
Ocean View Section
The spacious Ocean View Junior Suites come with 1 King size bed or 2 double beds, each room with a sofa bed. A capacity for 3 adults and 2 kids, or 2 adults and 3 kids, makes these rooms an ideal option for families. The view from the balcony is perfect for whale watching in the winter.
Finisterra Suites Section
Completely renovated, the guestrooms in this section have modern yet cozy design and all the comforts you need. Here, you'll be blown away by amazing ocean or bay views combined with luxury amenities.