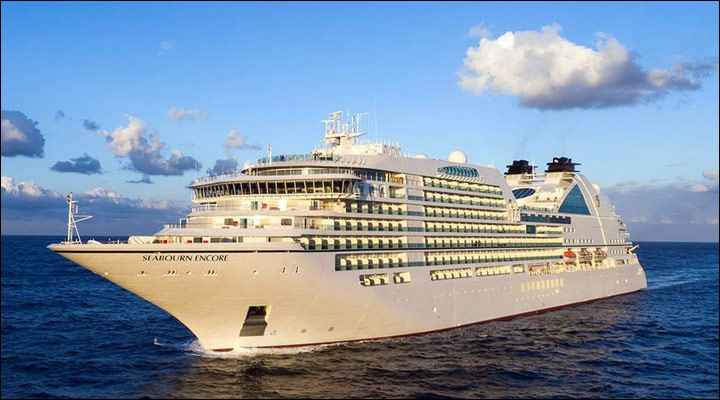 Seabourn Encore
Seabourn officially debuted Seabourn Encore in 2016. This ship is as strikingly beautiful and as excitingly innovative as any Seabourn has ever debuted. It crowns a fleet that is already the newest, most modern and most acclaimed in the ultra-luxury segment. Modeled on the award-winning trio of ships introduced with Seabourn Odyssey in 2009, Seabourn Encore represents another welcome stage in the evolution of small-ship cruising, which Seabourn pioneered and has consistently expanded and enriched. She delivers a wealth of new concepts, a fresh vision and a host of illuminating ideas to delight the world's most discerning travelers.
Some of life's most cherished moments occur around the table, and every meal with Seabourn is another opportunity to celebrate. Seabourn's award-winning cuisine starts with the finest quality ingredients, infused with authentic regional flavors, prepared á la minute by skilled chefs and served with pride. Seabourn Encore features for the first time ever a dedicated sushi restaurant on board a Seabourn ship. Seabourn researched the best ingredients and developed a menu that is a perfect blend of authenticity to maintain the root of the cuisine, and a twist of Seabourn's culinary expertise. The sushi concept is a modern line that is steeped in tradition using the finest ingredients.
To further advance its mission with Seabourn Encore, Seabourn enlisted the participation of master designer Adam D. Tihany. Although the architecture of Seabourn Encore is not radically different from Seabourn's other three ships, Tihany's vision is present throughout the ship. There is a new softness and a curvaceous elegance to his designs that reflect a noticeably bespoke aesthetic. The vessel exudes ultra-luxury with design elements often found in private yachts. Nautical visual elements are employed with an exceptional intelligence and sophistication. And, true to his vision, Tihany has enriched the entire ship with an impressive array of unexpected surprises and subtle transformations for guests to continually discover and delight in --- but those, as he so wisely says, are not meant to be described, but rather to be discovered.