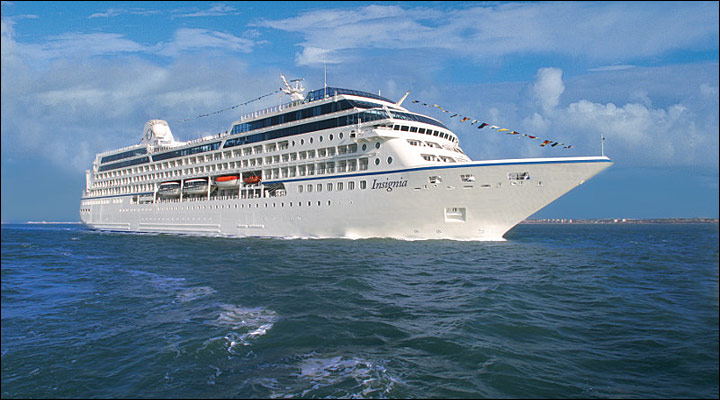 Insignia
Book with Confidence! Updated Cruise Line Policies, Restart Info & More
The acclaimed Insignia has undergone a multimillion-dollar transformation to create a virtually new ship that is both sleek and elegantly charming. Her decks are resplendent in the finest teak, custom stone and tile work, and her lounges, suites and staterooms boast luxurious, neo-classical furnishings. Insignia offers every luxury you may expect on board one of Oceania's stylish ships. She features four unique, open-seating restaurants, a world-class fitness center and spa, eight lounges and bars, a casino and 342 lavish suites and luxurious staterooms, nearly 70% of which feature private verandas. With just 684 guests to pamper, the 400 professionally trained European staff ensure you will wait for nothing.
Experience the warm and convivial atmosphere unique to Oceania Cruises: elegance without pretense. Feel wonderfully at home as you meet fellow shipmates, explore the ship and prepare for the fascinating ports of call you will soon discover. Meet friends for cocktails at Martinis and share adventures you enjoyed ashore. Join an afternoon bridge game, or perhaps simply relax by yourself in one of the many private retreats reserved just for you.
The stimulating variety of entertainment options on board continually ensures your interests are piqued. Enjoy an engaging guest lecture by a historian, naturalist or former ambassador eager to share insider knowledge. Relax at a musical performance, perhaps featuring a live pianist, a classical string quartet, a dynamic vocalist or a spectacular headliner. Later, try your luck at the elegant Monte Carlo-style casino or go dancing at Horizons.
Boldly claiming to serve cuisine renowned as the finest at sea might seem to be an overstatement. But they wouldn't make such an immodest assertion if not for the tremendous contribution of the legendary Master Chef Jacques Pépin. As the Executive Culinary Director, he inspires the chefs to perform feats of gastronomic wizardry. Memorable dining begins with open-seating, as it allows you to dine when you are ready and with whomever you choose. Regardless of which restaurants you select, there are no dining surcharges. Enjoy Toscana's authentic Italian dishes, Polo Grill's steakhouse fare, Continental cuisine in the Grand Dining Room, and made-to-order American favorites in the Terrace Café.
---
Please note the U.S. government's Travel Advisory as of January 23, 2022:
Do not travel to Russia due to ongoing tension along the border with Ukraine, the potential for harassment against U.S. citizens, the embassy's limited ability to assist U.S. citizens in Russia, COVID-19 and related entry restrictions, terrorism, harassment by Russian government security officials, and the arbitrary enforcement of local law.