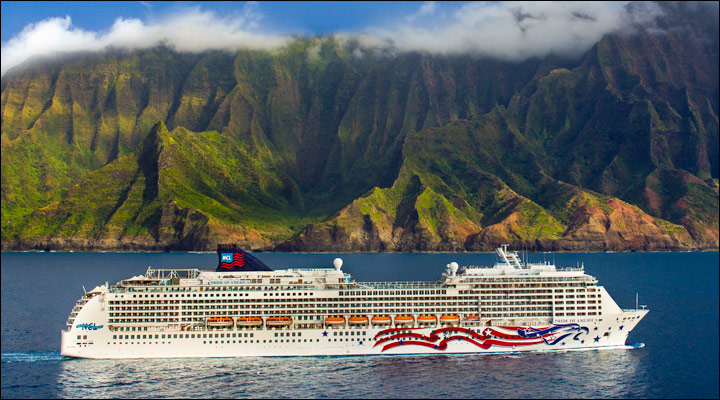 Pride of America
Aloha! Aboard
Pride of America
, NCL's only cruise ship that sails round trip from Honolulu year-round, you can vacation on your schedule. As you journey from one exotic island to the next, learn about the Hawaiian culture through the eyes of native ambassadors on board the ship. Island hop Hawaii in style, with more than 15 restaurants and 12 bars and lounges, excellent family accommodations, spacious suites and balconies – perfect for whale watching, witnessing Kilauea Volcano or taking in the dramatic views of the Napali Coast.
From top to bottom and from bow to stern, Pride of America has enough onboard activities to fill every minute of your cruise. Indulge in a refreshing swim at the Oasis Pool or the Miami-inspired South Beach Pool. Play Bridge or test your skill with board games, checkers and Scrabble inside Shuffles Card Room. And when all is said and done, enjoy a pamper session at Mandara Spa.
With 19 dining options, more than any other cruise line in Hawaii, Pride of America offers a genuine Hawaiian culinary experience by serving local Hawaiian cuisine such as Pineapple Beurre Blanc with fresh seafood, papaya with Asian short ribs and a variety of tropical juices.
Pop some bubbly and toast to the good life inside Pink's Champagne Bar. Dance until the wee hours at New Orleans-inspired Mardi Gras Cabaret Lounge & Nightclub. Or hang loose with a Mai Tai at Waikiki Bar. Whether you're looking to meet up with friends or make new ones, there's always an opportunity to mix it up.