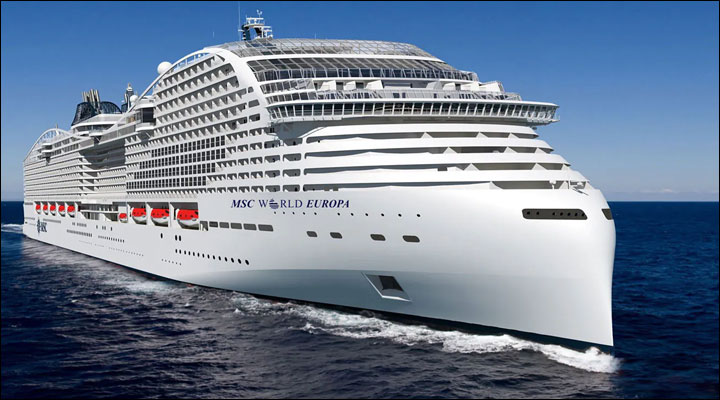 MSC World Europa
Imagine the future of cruising on board the new revolutionary MSC World Europa, the first ship in the trailblazing MSC World class fleet.
Powered by LNG, one of the the world's cleanest marine fuels, and featuring breakthrough green technologies, MSC World Europa symbolizes the beginning of a new era of cruising. Another example of MSC Cruises' long-term environmental commitment and responsibility to the future, this unique prototype features a ground-breaking design, where every detail offers you an entirely new cruising experience. This one-of-a-kind/showstopping ship is unlike anything you've ever seen.
MSC World Europa offers an extensive range of accommodation options to satisfy every taste, from luxurious suites with stylish private facilities in the MSC Yacht Club to traditional comfortable staterooms. What's more? MSC World Europa brings brand new stateroom designs overlooking the outdoor promenade where guests can soak up the vibrant atmosphere for a truly unique experience.
The increased size of the MSC World class ships has enabled the architects to create unique areas, each with their own ambience and experiences, from a tranquil zen zone for adults to a lively partially open promenade with entertainment, bars, shops and luxury boutiques, followed by a family zone that houses all the kids' facilities – a world of different experiences.
All entertainment and dining options on MSC World Europa are taken to the next level featuring a vast choice of new themed locations and activities.
The onboard entertainment offers huge variety and choice for everyone - from the fleet's largest water park with VR technology water slides to the Luna Park Studio, a multi-functional venue with 300 seats and built to tailor to any performance or event. And as always, the award-winning MSC Kids Club offers state-of-the-art facilities for kids with a dedicated area of the ship as well as a range of kids' clubs and tailor-made programs designed for each age group.
Fine dining on MSC World Europa has reached a whole new level. In addition to the four main restaurants and the 2 ample buffets, there are six sophisticated specialty dining venues featuring MSC Cruises' signature favorites like the American-style steakhouse, Sushi bar and Teppanyaki, and 3 brand new concepts, including Latin American street food -inspired Hola! Tacos&Cantina and other exciting gourmet experiences.
A wide variety of bars and cafes to match any mood. Peruse the ship and step into the fresh juice bar, settle in for a cup of tea or enjoy a cocktail.