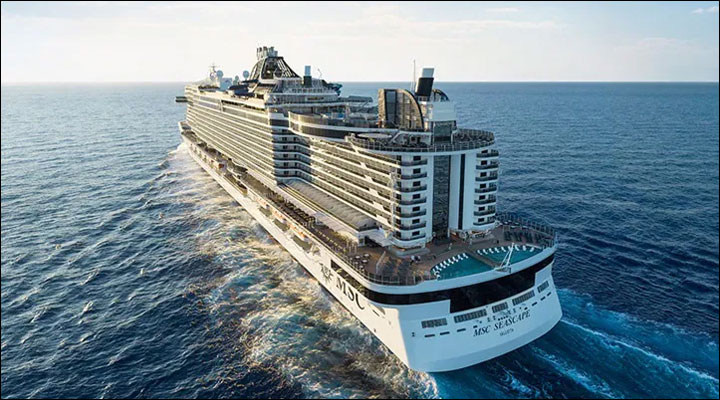 MSC Seascape
Book with Confidence! Updated Cruise Line Policies, Restart Info & More
Introducing MSC Seascape, designed to bring you closer to the sea and perfectly planned for oceanside moments. Sister ship to the innovative MSC Seashore, MSC Seascape is equipped with state-of-the-art environmental technologies and an abundance of outdoor space for strolling, relaxing and dining. Get ready for sensational experiences and the joy of discovering new horizons.
MSC Seascape sails to The Bahamas and Caribbean on 7+ night cruises. With almost 140,000 ft2 of outdoors space, guests can enjoy the spectacular glass-floored Bridge of Sighs, an aquapark with a Pirates Cove theme, multiple bars and al fresco dining by the sea. Plus, an extensive Kids' Club — the largest in the fleet — offering a futuristic theme and an area dedicated to LEGO®.
MSC Seascape is equipped with the latest environmental technology & improvements to energy efficiency, reducing air emissions, as well as an advanced wastewater treatment system with purification standards that are higher than most wastewater treatment facilities ashore.
MSC Seascape pays tribute to New York City, which as a destination represents the spirit of discovery and cultural experiences that is at the heart of the MSC Cruises guest experience. As such, the design features, public areas and venue names are inspired by the metropolitan U.S. city. These include an imposing three-metre-high replica of the Statue of Liberty at the heart of the casino and a newly designed expansive retail and entertainment area, aptly named Times Square. The main feature of this new area is an impressive 8.5 metre-high LED wall spanning four decks with a projection of the iconic skyline of this entertainment hub in Manhattan that can change from day to night.
MSC Seascape features newly designed staterooms and suites to suit all your needs during your cruise vacation. Choose among 11 different types of staterooms and suites with balconies including the coveted aft suits, 50 terraced suites with extended balconies and 32 different suites with outdoor private whirlpools. And get to know an unparalleled accommodation experience at the 2 new palatial Owner's Suites, the largest and most luxurious in MSC Yacht Club.