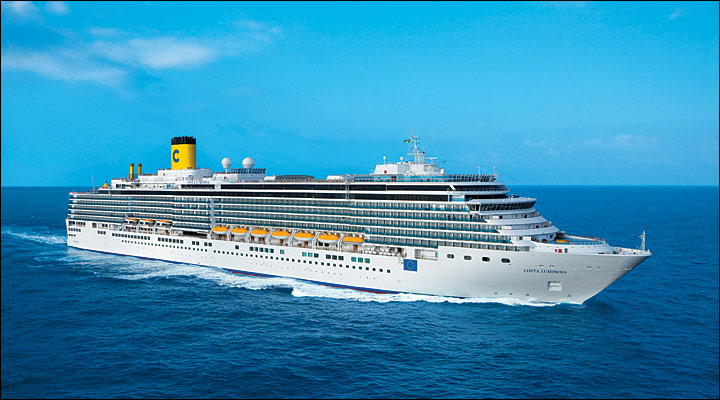 Costa Luminosa
Book with Confidence! Updated Cruise Line Policy.

Costa Luminosa is a unique ship. The design, precious and refined materials, plus new attractions and architectural solutions make the ship both charming and innovative at the same time.
A cruise on Costa Luminosa is a journey through light in all its forms: from the transparency of the glass structures to the myriad reflections of the Murano glass chandeliers, from the iridescent fabrics of the furnishings to the dancing lights and shows at the Phoenix Theatre, from the revitalising energy of the Samsara Spa to the pure adrenalin of virtual reality.
From the Supernova Atrium onwards, the brightests stars in the universe will accompany you through every environment: in the Taurus and Andromeda Restaurants, the Vega Casino, the Antares, Sirius, Elettra bars... discover all the best that a Costa holiday has to offer on a single cruise.
When you book a "Samsara" Stateroom or Suite you will experience the utmost in comfort in Samsara's unique and Asian inspired atmosphere. Samsara Staterooms and Suites offer many exclusive privileges, the first being the convenience of direct access to the Samsara Wellness Spa.
Other amenities include a flat screen TV in your stateroom and the special Samsara bath set.
Ask your Vacation Planner for more information regarding these incredible staterooms and all the amenities you'll have access to when you book.