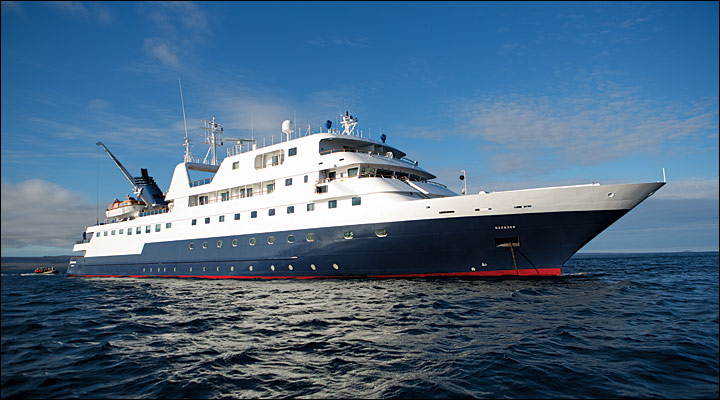 Celebrity Xpedition
Beginning August 8th, Celebrity Cruises has removed COVID-19 testing requirements on cruise durations of 5nts or less.
Only Celebrity Xpedition® offers the perfect combination of explorer's voyage and cosmopolitan bliss. Travel to one of the world's last pristine environments – the legendary Galapagos Islands. Where untamed wildlife outnumbers the pampered travelers. Make moonlight toasts under the stars that led sailors and scientists alike to this extraordinary archipelago.
Designed not just for travel, but for exploration, this 100-guest mega-yacht sails the Galapagos Islands seven days a week, 365 days a year. The knowledgeable crew, environmentally sound ship design, and Galapagos National Park-certified onboard naturalists all help to preserve this delicate archipelago, while educating you on its natural and evolutionary significance. It's a journey like no other on Earth.

NOTICE: Prior to booking, please consult all applicable U.S. Centers for Disease Control travel advisories, warnings, or recommendations relating to cruise travel, at cdc.gov/travel/notices. If a certain threshold level of COVID-19 is detected onboard the ship during your voyage, the voyage will end immediately, the ship will return to the port of embarkation, and your subsequent travel, including your return home, may be restricted or delayed. Health and safety protocols, guest conduct rules, and regional travel restrictions vary by ship and destination, and are subject to change without notice. Due to evolving health protocols, imagery and messaging may not accurately reflect onboard and destination experiences, offerings, features, or itineraries. These may not be available during your voyage, may vary by ship and destination, and may be subject to change without notice.