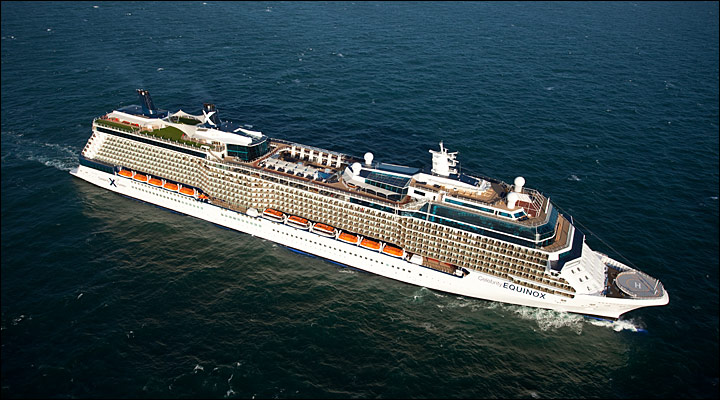 Celebrity Equinox
Beginning August 8th, Celebrity Cruises has removed COVID-19 testing requirements on cruise durations of 5nts or less.
NEW! Upgrade your cruise only interline rate and make it an All-Inclusive cruise vacation. Celebrity's 'All Included' program is now available and you'll get unlimited Drinks, unlimited WiFi and Gratuities included in your discounted rate! Only available from your PERX Vacation Consultant so call today or use the request online and ask for the 'All Included' interline rate. Find out more here.
Celebrity Equinox captures the very essence of premium cruising. And after some extensive upgrades, that's more true than ever before. With new amenities not available on any other Celebrity ship, prepare to have your expectations exceeded as soon as you step on board. Delight in your choice of ten exceptional dining venues. Enjoy craft beer and comfort food in the new Gastrobar and sip refreshing frozen cocktails on the pool deck at Slush. A unique experience at sea, feel grass beneath your feet at the relaxing Lawn Club. Every imaginable comfort complimented by Celebrity's unrivaled guest services promises an unsurpassed cruise experience no matter your destination.
NOTICE: Prior to booking, please consult all applicable U.S. Centers for Disease Control travel advisories, warnings, or recommendations relating to cruise travel, at cdc.gov/travel/notices. If a certain threshold level of COVID-19 is detected onboard the ship during your voyage, the voyage will end immediately, the ship will return to the port of embarkation, and your subsequent travel, including your return home, may be restricted or delayed. Health and safety protocols, guest conduct rules, and regional travel restrictions vary by ship and destination, and are subject to change without notice. Due to evolving health protocols, imagery and messaging may not accurately reflect onboard and destination experiences, offerings, features, or itineraries. These may not be available during your voyage, may vary by ship and destination, and may be subject to change without notice.