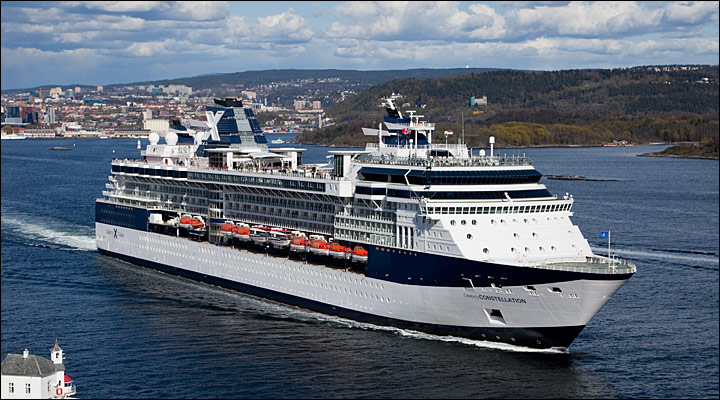 Celebrity Constellation
Beginning August 8th, Celebrity Cruises has removed COVID-19 testing requirements on cruise durations of 5nts or less.
NEW! Upgrade your cruise only interline rate and make it an All-Inclusive cruise vacation. Celebrity's 'All Included' program is now available and you'll get unlimited Drinks, unlimited WiFi and Gratuities included in your discounted rate! Only available from your PERX Vacation Consultant so call today or use the request online and ask for the 'All Included' interline rate. Find out more here.
Luxurious and upscale on every level, Celebrity Constellation® continues to set new standards in modern luxury vacations. Qsine is hands down one of the most unique and popular restaurants in the fleet. So, they've taken it even more global by adding one to Constellation. Everything here is "uniquely unordinary," from the inventive twists of favorite dishes to the playfully quirky ambiance and the iPad® menus. Prepare to embark on a culinary journey that will have every one of your senses humming. The inviting Rooftop Terrace features chic, cozy furniture, surprising artistic elements, and a large soundscape and movie screen that lets you kick back and catch Taste of Film—a unique way to experience movies. Below deck, enjoy 66 new staterooms including spa-inspired AquaClass® accommodations and Blu restaurant with a healthy and delicious "clean cuisine." Share vacation photos with your social networks through the Celebrity iLoungeSM or the enhanced Wi-Fi on board the ship. Celebrity Suites were refreshed with the addition of their own private verandas. You'll discover some of the top names in fashion in a completely refreshed shopping area, and kids will love the new Xbox consoles within the Fun Factory kids' club and X Club teen venue along with free play on Xbox 360 and Kinect for Xbox 360. Restful sleep is ensured on new Reverie® mattresses in all staterooms and suites. New sun loungers on both pool decks plus a fresh color scheme, carpeting and upholstery all contribute to Celebrity Constellation's modern, new vibe.
NOTICE: Prior to booking, please consult all applicable U.S. Centers for Disease Control travel advisories, warnings, or recommendations relating to cruise travel, at cdc.gov/travel/notices. If a certain threshold level of COVID-19 is detected onboard the ship during your voyage, the voyage will end immediately, the ship will return to the port of embarkation, and your subsequent travel, including your return home, may be restricted or delayed. Health and safety protocols, guest conduct rules, and regional travel restrictions vary by ship and destination, and are subject to change without notice. Due to evolving health protocols, imagery and messaging may not accurately reflect onboard and destination experiences, offerings, features, or itineraries. These may not be available during your voyage, may vary by ship and destination, and may be subject to change without notice.