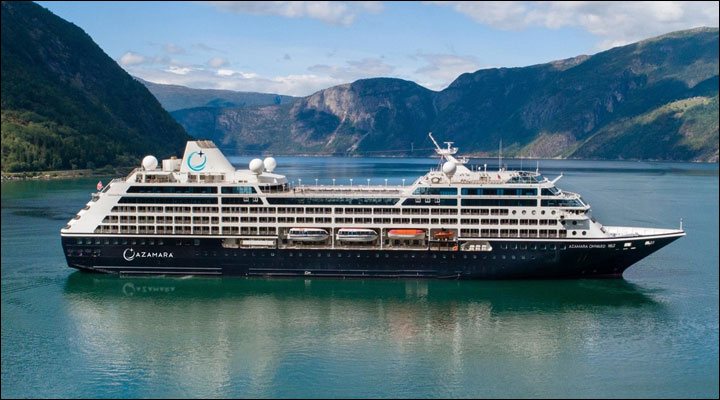 Azamara Onward
Azamara Onward will join the brand's existing fleet: Azamara Pursuit®, Azamara Journey®, and Azamara Quest®.
Connect with people, cultures, and yourself aboard the newest addition to the Azamara fleet, Azamara Onward. Just as the name suggests, the fourth sister ship will push forward the future of Destination Immersion® experiences with a passionate crew, health and safety standards, and 22 new itineraries during her inaugural season in Europe starting in spring 2022.
With over half of the new itineraries being Country-Intensive Voyages, Azamara Onward makes it easy to experience a single country's iconic destinations as well as its hidden gems — especially with longer stays and more overnights at ports. Embark on an island-hopping adventure in Greece, sailing from the pink sand beaches of Chania to the olive groves of Corfu. Uncover the mysteries of the Black Sea during a visit to Bucharest or the famous Potemkin Stairs of Odessa. And because you'll be sailing aboard a boutique hotel at sea, you'll enjoy exclusive access to ports only available to smaller ships, such as Monte Carlo and Venice.
Find even more ways to immerse yourself with the exceptional PerryGolf™ Mediterranean voyage and the new selection of land explorations, including an AzAmazing Journey in Greece and another in Cappadocia – known for its fairytale scenery and cave dwellings. Whether you're craving a transformational experience or simply wish to acquire a fresh perspective, be welcomed to embrace endless possibilities aboard the new Azamara Onward.
INCLUDED ON EVERY VOYAGE:
•    AzAmazing Evenings® event
•    Select standard spirits, international beers and wines
•    Gratuities
•    Bottled water, soft drinks, specialty coffees and teas
•    English-trained butlers for suite guests
•    Self-service laundry
•    Shuttle service to and from ports, where available
•    Concierge services for personal guidance and reservations
Please note that Interline bookings do not qualify to receive Azamara Le Club Voyage Loyalty benefits.